VirtualFem Morgan Dayne is a seriously cute 25 year old from Vineland in Florida; she looks just like a friendly neighbour, assuming your friendly neighbours are hot, sexy and up for anything.
VirtualFem Morgan Dayne is also bisexual, and better still her girlfriends are hot too.  Her girlfriends are Amber Rayne and Sara Siren; they are adult movie stars, well, unless their parents had the porn stars guide to naming your child!
If you are one for stats, then here are a few for you; Morgan is 5 feet 5 inches tall, weighs 112 lbs and has a nice 34B-25-35 figure. As a member you could experience her (in a virtual sex sense) every single night if you wanted to.  She doesn't do anal sex, and she seems a little shy when she's outside on the balcony; however inside the house she's wild for sex, with you, or her girlfriends.
She comes complete with several outfits and several locations to travel to; for effect these are done by car (not sure why really) however some of the locations will still lead you to the same indoor sex. Also some of the locations lead you to Morgan and her girlfriends. She is very enthusiastic about getting it on and I am fairly certain that she won't be disappointing; although, I suppose it will depend on your tastes though.
VirtualFem Morgan Dayne though is going to be loved by any of you who would love to get alone in a room or on a beach with two very hot girls whilst they put on a sex show for you to jack off to.  She has a very arty encounter with one of her girlfriends (Sara Siren) at Sara's house, and then gets it on with Amber Rayne on a secluded beach, so perfect if you like outdoor sex.
As with most VirtualFem girls, Morgan Dayne won't disappoint and when you bear in mind that a VirtualFem membership gives you full access to download every virtual girl that they have had since 2004 then you will see what good value it is.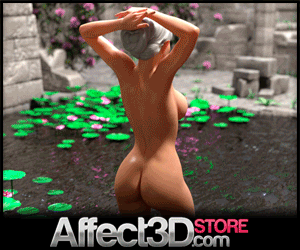 VirtualFem Morgan Dayne Review Overview
Sexiness of virtual Girl - 90%
Range of sexual positions - 80%
Quality of sex talk - 80%
Number of locations - 90%
85
%
Morgan Dayne is Damn Fuckable