Girlfriends 4 Ever is not really a 3D sex game it's more a 3DX animation, not that it will matter.  It is in the genre of dick girls, so if that is your thing you will love it.  You won't have to worry about setting up or performing tasks, as the sex action is readily available; if this is what you like then read on.
Take a look at the website and you'll see that the graphics in Girlfriends 4 Ever are out of this world; especially when running full screen. if you want more proof, then look at the screenshots below; even though they are much smaller you'll see the quality.
Girlfriends 4 Ever, the Story
Girlfriends 4 Ever is the story of a really hot girl called Tara. After some encouragement she convinces her friend Sayako (an amazingly beautiful chick with a dick) to have sex with her; this is something Tara has never done because she has never had sex with another girl.
Girlfriends 4 Ever is like a big screen production as it rolls on to your screen, with cool music and rolling credits. Sit back and watch the story unfold through a number of amazingly high quality 3DX animations that are extremely hardcore.
When you watch the story unfold you will not only get turned on by the incredibly hot sex, but also by how real the characters look! The dick girl has the most ginormous cock you could ever imagine and yet the scenes look so real, you may even find yourself thinking how the fuck does that all fit in there!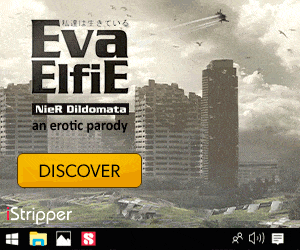 Playing Girlfriends 4 Ever
You can just press play and watch Girlfriends 4 Ever play from start to finish; alternatively you can access the main menu from the control bar as the 3D sex movie is playing; this gives you more choices. From the menu you have access to the individual scenes and some cool fun stuff. There are further choices from the main menu which will display on the right hand side or by selecting home.
The Girlfriends 4 Ever scene menu is excellent because it allows you to play the scenes that you want to play when you want to play them, as you are bound to have your favourites.  You will be able to choose from when Sayako and Tara first meet, first chat and first kiss; alternatively you can get straight on with the sex, there are nine additional sex scenes to choose from.
In addition to the main sex scenes there is a fun stuff option. This option lets you select from 12 more short animations; these include Tara self love, Sayako self love, 360 blow job, huge tits and 3D Vision. You'll need some of the red and green glasses to watch 3D vision; you can explore the options for yourself.
Girlfriends 4 Ever also has a cool movie player that lets you be the director of your own 3DX movie; it allows you to organise all the scenes into the position you want them (from the main scenes and the fun stuff) so that when you press play it will run through the whole movie as you have defined it.
The makers of Girlfriends 4 Ever also have an incredible amount of other quality 3DX stuff available from their store, so take a look at what they have on offer.
Girlfriends 4 Ever Review Overview
Graphics - 100%
Value for money - 95%
Sound - 95%
Playability - 95%
96
%
3DX Transsexual Movie at it's Best