XStoryPlayer 3.5 is more a sex adventure game than a virtual sex game. XStoryPlayer 3.5 has built on the original game and now includes several improvements over earlier versions.
There are plenty of good sex games and animations around; adult virtual world games like 3DXChat, virtual sex games like 3D SexVilla and animations like Bloodlust Cerene. All offer something different, and that is true too of XStoryPlayer 3.5.
As far as adult games go XStoryPlayer 3.5 is quite unique, if a little frustrating on occasion.  The game has added value because it is not simply about the sex. You have to perform tasks and do things to progress through the stories; this can be difficult at times, so if you have a limited attention span, you may find it a bit of a challenge. It is also a VR game, so if you have an HTC Vive or an Oculus Rift or CV1 you will be able to enjoy the virtual reality.
Currently there are only three stories, two of which are short.  The most involved is Tentacle Dreams which is definitely unusual; it will appeal to adult sci-fi fans I am sure.  The original stories are still there but have to be played in the earlier version of the game; no doubt they will be upgraded to XStoryPlayer 3.5 in due course.
Ways to Play XStoryPlayer 3.5
Firstly, you can take the long route, this may be a challenge for many of  us.  Select a story line such as Tentacle Dreams and start playing.  You will have to pick up items, perform tasks, and do things in the right order to move through the story.  There are hints that pop up by the way of speech bubbles throughout; also you could try searching for an XStoryPlayer 3.5 walkthrough. You will find a Tentacle Dreams walkthrough here in the XStoryPlayer wiki.  Moving around and playing the game is relatively simple insomuch as the controls are readily accessible from the help; press the standard F1 key to access this.
The second way you are able to play is by using the save points included with your purchase.   Using the save points will enable you to start from a particular scene; perfect if you want to jump to tentacled beasts banging the beauties.
Finally there is the fast sex option.  This ignores the story lines and allows you to have fun with the girls in the dungeon. Here you will find a cage, stocks and more plus lots of toys to use on them.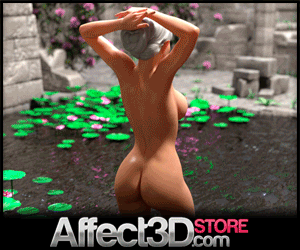 Summing Up XStoryPlayer 3.5
XStoryPlayer 3.5 is good value for money. Currently just $18 you will get an adult VR game that has good graphics and imaginative game play.  There are a great deal of customisations for you to apply to the girls to make them fit your fantasies.
It's good to have a chat interface so that you can ask them to do things, however I did find that on many occasions they were very slow to respond. I also liked the ability to use the mouse to drag on clothing or their bodies, and the way you could push things into the various holes.  Their bodies responded well, and appeared very realistic, including the large bouncing boobies.
All in all XStoryPlayer 3.5 is a good game which is worth taking a further look at;  there is also a free demo so that you can see if you like it before you buy it.