Somavision is no longer operating, but the review below has been left in place as it has historical interest. If you are interested in 3DX Games then take a look at 3D Sex Villa instead.
Somavision is a pretty old offering now. I first reviewed it in February 2008 and at the time was impressed; but thanks to the addition of two major 3D adult games I reviewed it again about nine years later. Although not much had changed with the original offering I believe that the latest Somavision membership now represents better value for money. Somasex was one of the pioneers in the 3D adult games world, but it has been surpassed now by many games.
On logging onto the Somavision website you will be shown the section of what is new; a good place to start for obvious reasons. The site is nicely laid out with all the available options down the left of the page.
In prime place at the top of the page you will be able to download the two latest offerings, Soma Stripper and 3D Girlz. These are not unique to SomaVision as they are 3D adult sex games in their own right. However what is unique is their inclusion in one membership package along with all the other great stuff.
3D Girlz
In short the addition of 3D Girlz to the SomaVision membership is good thinking. 3D Girlz  is a top quality 3D sex game with fantastic graphics, great erotic sounds and excellent gameplay. You can have lesbian encounters, heterosexual sex or get it on in threesomes; all in some fantastic locations and numerous sex positions.
You can zoom right in on the action, and the action is so good that you will want to believe you are there. You can customise the characters to your own liking; big cock, tit size, black, white, latino, piercings and many other options.
For the full 3D Girlz review click here.
Soma Stripper
As if it wasn't enough to add the 3D Girlz adult game, a Somavision membership now includes Soma Stripper. Soma Stripper is a fantastic virtual stripper game. You get an extremely hot 3D babe as your personal pole dancer and stripper with a number of sexy outfits.
You can get her to strip quickly if you want, choose moves, add soundtracks and customise stuff. This stripper is extremely hot and the Soma Stripper is a very worthwhile addition to the SomaVision membership.
For the full 3D Stripper review click here.
Somavision Photo Studio
After selecting the Photo Studio, you are faced with the model selection screen. There are five models to choose from and you can read the rules from here which starts you on the right foot.
I rarely read manuals (until completely necessary) so I just selected my favourite model straight away and went to the Photo Studio. In the Photo Studio you will be faced with three choices down the right. As you hover your mouse over each button you will see a description of the choice. Your choices will be include options such as "Seduce the camera", "Grab your tits", "Bend over you slut". I found this to be excellent fun.
The screen is a little small and is not sizeable, but the graphics were good. Whilst it can be a little obvious which selection to make to keep the model doing what you want it is also fun to select the "bad" choices to piss her off and make her leave. Annoy here twice and she's off, so choose wisely!
If you get it wrong, you will have to start again, the key is to seduce her slowly and then she'll be eating out of your hand; play your cards right and you will have her eating more than that. This is a fun option and you have a good selection of models to choose from.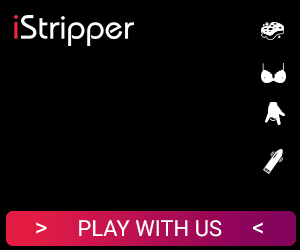 Strip O Matic
Next it was on to the Strip O Matic sex game; again I ignored the rules and I selected a different model and was away. The interface is very easy to work out so you will be able to work it out yourself without the rules.
You are able to read a bio of the model, and you can change the outfit she is wearing; next select a pose that you find appealing and start stripping her by clicking on the items of clothing you wish to remove. This is great, because in no time at all you can get her naked.
As before the 3D graphics are good and you have the same choice of five models; so once again you can repeat the procedure as often as you need to!
Somavision Centrefolds
As you would expect, this section offers you a choice of 3D centrefold pictures. You have two sections to select from, Somavision Centrefolds and centrefold classics. Within each there is a wide choice of models to select from. The high resolution graphics are absolutely stunning and the detail is fantastic. The choice of girls will leave you throbbing in all the right places; and because the graphics are so superb you will not feel embarrassed that they are only 3D! The Hayley Sex series of shots are my particular favourites; but it is hard to choose as they are all absolutely fantastic.
In the Centrefolds Classic section you can choose between Miss January to Miss December with a number of each. Once again you will be astounded by the high resolution graphics. Although they are a little smaller in size than the Somavision Centrefolds they are still great large sized shots.
Directors Cut
The directors cut shares the same initial interface with Strip O Matic and Photo Shoot. You get six options to choose from for the sexual positions you would like to perform in; cowboy, reverse cowboy, doggy standing, doggy kneeling, missionary and blowjob. You can change the camera angles and you can opt when to cum at the click of a button.
This is a good little interactive sex game, with good graphics. The only thing that I would like to see would be a bigger screen size; it is quite small so the Somavision's larger sized graphics cannot be seen to their full potential here.
Additional Benefits
SomaHD is a collection of downloadable High Definition 3D movie clips of the girls either dancing or masturbating. The quality of the graphics and fluidity of the movement is absolutely stunning also the detail is superb.
As if you haven't already been spoiled enough, Somavision gives you the Animation Station as well. This is a collection high quality 3D animations including the Animated Hayley Fuck! You get to see a doggy style shag with close up shots of her perfectly formed tits including full movement.
Hentai Vision is for the Hentai fans amongst you. You get some configurable Hentai animations where you get to choose the pose (e.g. titty fuck), hair colour, skin type and colour of her eyes to make your Hentai girl look just like you want her. I think that this section is a little limited in appeal but I am sure if you are a fan of Hentai then it will be a welcome addition to membership.
The Comicon is another set of stunning centrefolds, the same superb quality that you would expect from Somavision you have a huge range of high quality images to choose from both of solo girls and girls and guys getting jiggy. In addition to this, the section gives you a great selection of themed image sets covering a wide variety of areas including dungeon, sauna and many more.
SomaVision represents excellent value for money, two top class adult games, 3D sex pictures of the highest quality, realistic 3D video with beautiful 3D cyber babes and a selection of fun well designed sex games make a SomaVision membership well worth a look.
If you are looking for extreme value for money then I would recommend Somapass. This offers you a truly fantastic deal on the Soma 3D interactive virtual sex sites as this gives you access to Somavision, Somadoll and 3D Playthings offering you a good saving on the combined membership and excellent value for money.
Somavision Review Overview
Graphics - 75%
Value for Money - 85%
Repeat Play Value - 78%
79
%
A great deal of OK 3D sex for your money
Somavision is great value for money, and whilst some of the games are a bit tired and dated by today's standards there are good quality adult games and 3D video to compensate.